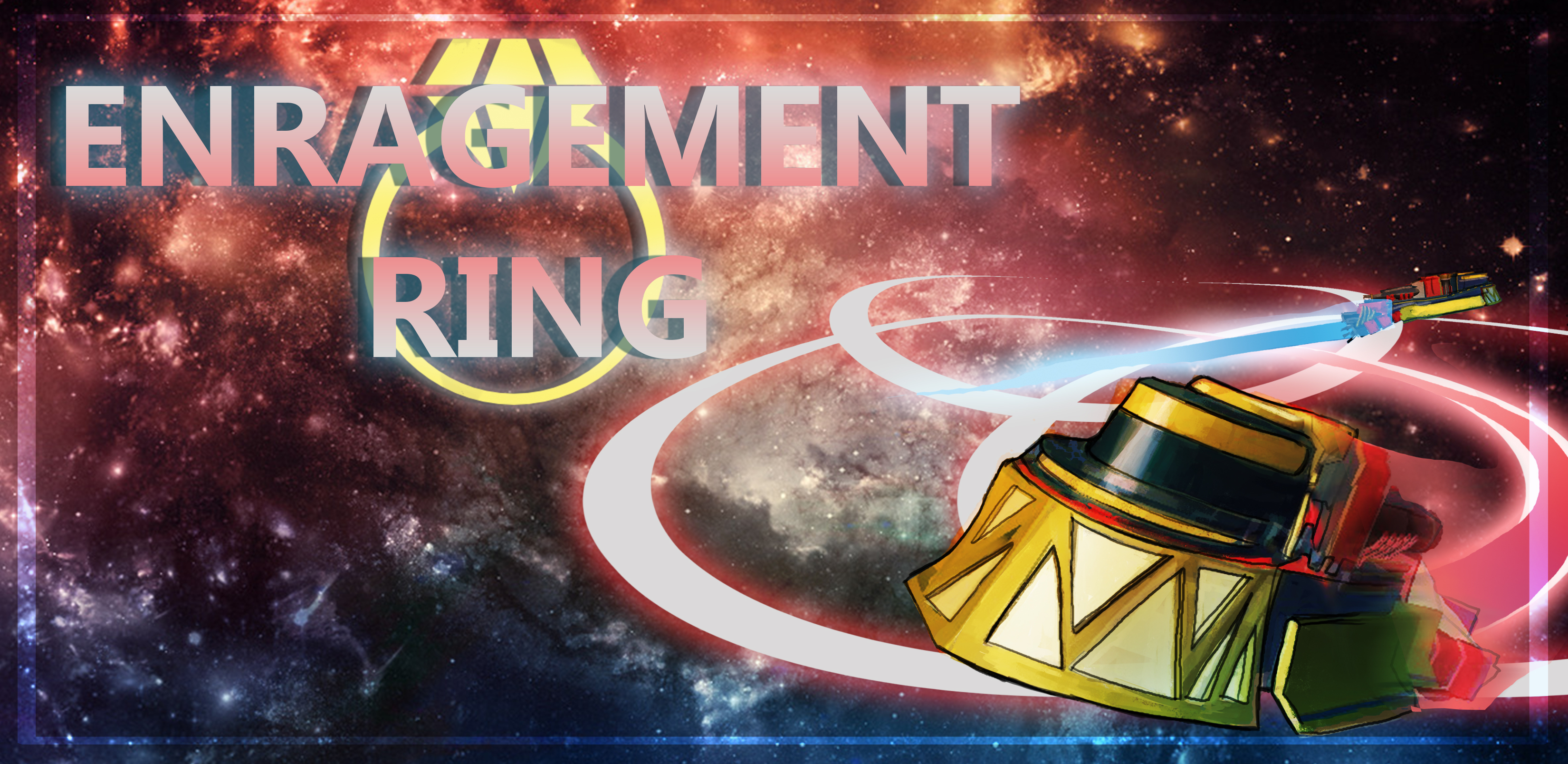 The Enragement Ring
A downloadable game for Windows
The Enragement Ring is a super physical spaceship combat game to challenge your friends to!

Players control one of four vessels in a sumo like arena where they use their ship as a battering ram to dominate the ring as last man standing. You can grind, warp, boost and slam your friends all over the ring and off into the depths of space.

Important:
Controllers are REQUIRED
You will want to grab at least one friend and plug in some controllers to play. More chaotic fun ensues as you add more players up to four.
Gamemodes:

Infinite stock - I live, I die, I live again! Recommend with test mode for first play - you can't die when you bounce out!
Stock - Last person with a life left wins! Re-spawns are enabled.
Tournament - Last person in the ring scores a point, first to the set number of points wins the tournament!
Controls:
Left stick - Direction and propulsion
Right Stick - Flick forward to boost in the direction your ship is facing, great for attacking opponents! Don't keep holding it though, as it has a 5 second cooldown!
Right Trigger - Press and hold to grab on a Line! Make sure you are PARALLEL to grab. The closer on the line you grab, the more charged your boost engines are when you jump off! If you are not sure when to grab just pull when you see the Green Light on your ship light up.
Y Button - Hold to charge warp which has a 10 second cooldown. If the line is yellow when you let go, warp will cancel, if the line is red, warp will engage! It makes your ship into a sniper bullet!
A Button - When pressed a bullet will shoot out and seek enemies. If it hits your ship it will do a 180 degree turn and all your momentum will carry with you!

Select Button - Turn off or on easy mode which allows you to hold the right trigger to grab well before you get to the line. Remember, you still need to be parallel to the line to grab!

Start Button (First Player Only) - Pause the game and allows you to change modes and maps.

Other Gameplay Details:

Stun - If you are hit hard your ship will be stunned! This is indicated by the Flashing Yellow Light on top of it. While stunned you can do everything but aim your ship!
Butt Bump - If you hit another player hard enough in the engines at the back of his or her ship it will activate their warp drive. Good luck surviving it!
Contact and Info:

If you want to follow our development come swing by https://grunkamunka.com/!
To get in contact with us or just say hi: https://grunkamunka.com/contact/
Thanks for checking us out!
Have Fun!
-All of us at GrunkaMunka Games
Install instructions
Download and unpack to play from the Unity launcher!
Download
Download
The Enragement Ring Demo.zip
75 MB